Let's Count Washington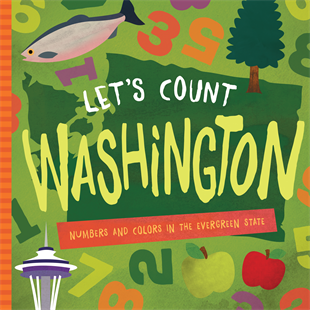 Let's Count Washington
Regular price
$1295
$12.95
2 gray whales swimming in the sea
6 pink salmon fighting up the stream
7 green hemlocks standing side by side
Numbers and colors are more fun in Washington! In this dynamic, colorful primer, young readers count from 1 to 10—learning colors along the way—as they discover the places, animals, and other wonderful things that make Washington so unique.
Age Range: 1 - 5 years
Grade Level: Preschool and up
Hardcover: 20 pages
Product Dimensions: 7.9 x 0.8 x 7.9 inches
About the Author: David Miles makes books for a living. He also reads books, writes books, sells books, shelves books, thinks about books, drives to books, sleeps to books, and cooks from books, but he doesn't eat books (which is fortunate). He is the author of Book, Let's Count Oregon, and Let's Count California. David graduated from Brigham Young University with a BS in business management. He currently lives in California, where he enjoys trips to Yosemite and the central coast.