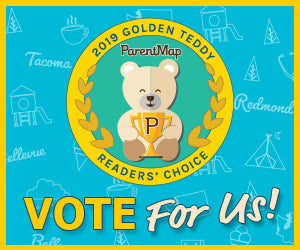 2019 Golden Teddy Awards
It's that time of year! Time to show the love for your favorite local businesses and when you're going for gold, love wins! We love our customers and hope you feel the same about us. If you do, it's time to show it. ParentMap's annual Golden Teddy Awards are here and we need you to share us as one of your top picks for the best Puget Sound resources for parents. Please nominate us as one your favorite Seattle-area businesses. 
VOTE!! When you do, you'll be entered to win over $1,000 in awesome prizes. Nominations run April 3-14!
Vote now: http://bit.ly/2CyfBkB