Jurassic Dinosaurs - Funny Mat, Clear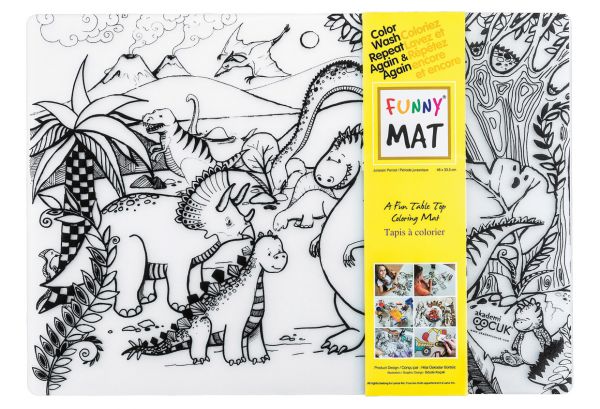 Free Local Pickup
All orders placed online are generally ready for pickup within 2-4 hours between the hours of Monday-Saturday 10am-6pm and Sunday 12pm-4pm. We will email you once your order is pulled and ready for pickup. If you have not received an email (and have double checked your spam folder) within 24 hours, don't hesitate to call us at 253-328-7192. If we are having an in-store event on the day of your order, please allow for additional time for us to pull and notify you of your order.
Shipping Information
The Curious Bear currently ships all orders via USPS or UPS.  We strive (but do not guarantee) to ship out all packages within 24-48 hours. A few items we carry may require additional processing time due to size, weight, or other special handling considerations.

Shipping is currently being offered for $7.95 to the lower 48 states. 
FREE standard shipping is available on orders over $100. 
Orders shipped via UPS generally arrive within 2-5 business days after processing (1-2 days). Orders shipped via USPS generally arrive within 3-7 business days after processing (1-2 days). USPS Priority Mail (3-5 shipping days) is available at checkout for $25. 
International Shipping
We can ship internationally, but please understand that The Curious Bear is not responsible for any international customs regulations or duties that may apply.  Please confirm fees and regulations with your local customs office.  For a shipping quote, please email us at hello@curiousbeartoys.com or give us a ring at (253) 328-7192, and let us know what you'd like to purchase, the exact shipping address, and how quickly you need your package to arrive! In general, all international shipping STARTS AT $24.99 for first class international shipping through USPS (2-3 weeks for delivery, not guaranteed.)
Expedited Shipping
If you have special circumstances requiring expedited delivery, please email us at hello@curiousbeartoys.com, and we will do our best to accommodate your request. We can usually ship UPS or Fedex 2 day or overnight with additional fees. 
Sales Tax
Please note that orders shipped within Washington State will be charged sales tax. Out-of-state orders will not be charged sales tax at this time (subject to change).
Backorders or Unavailable Items
If an item has sold out due to an overwhelming demand, you will be notified regarding the back-order status and your order will ship when our stock is replenished. We make an attempt to email all customers with back-ordered items and provide an estimated ship date. You will also be notified if the item will no longer be available.  If this should occur after your order/payment has been received, you will be given the option of a full refund or store credit.

Cancellation Policy
Orders may be cancelled after completing your purchase up until 11pm PST of the date of purchase, provided the item has not been shipped.  If an order is cancelled after your credit card has been processed, a full refund will be issued for the order amount plus shipping and tax, if applicable.   If you wish to cancel an order which has already shipped, upon receipt of the item, please refer to our return policy.
Lost Packages
Lost packages happen rarely, but please know that they do usually resolve themselves within 1-2 weeks (if not sooner) in our experience.
Most times, the package is either still on the mail truck or was accidentally delivered to a neighbor and it will be redelivered within 1-2 days.
Our first recommendation is to reach out to your direct neighbors to see if the package was delivered to them. If that's not the case, please reach out to UPS or USPS directly and file a claim for the missing package with your tracking number. 
Stolen Packages
Please ensure the shipping address you provide is a safe and secure address. We are not responsible for packages stolen during transit or off your porch. You can file a claim directly with UPS or USPS for these incidents.
Incorrect Address
The Curious Bear will not be held responsible if the customer provides the wrong shipping address and the package is not recovered. If we need to reship the package, customer will be charged an additional shipping fee even if free shipping was earned on the order.  The fee will be equal to our actual shipping cost.