Baby Botanist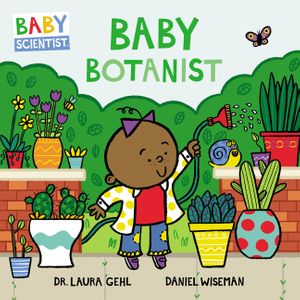 Baby Botanist
Baby Scientist is an adorable board book series that brings fun, accessible science concepts to baby's world using simple language, recognizable settings, and vibrant art. Read them all with your baby scientist!

Baby Botanist studies plants. In her lab coat, she looks at plants both large and small. She finds plants growing in many places.
Can plants grow on water?
What foods come from plants?
Find out with Baby Botanist!
Baby Scientist series creator and author Dr. Laura Gehl holds a Ph.D. in neuroscience from Georgetown. She has nearly twenty years of experience teaching and writing about science for elementary, middle, and high school students.

Don't miss the other books in this series, including Baby Astronaut, Baby Oceanographer, and Baby Paleontologist.
"The illustrations are colorful, uncluttered, and humorously engaging. A nice addition to this baby-attuned series." —Kirkus

"Adorable entry in the Baby Scientist board book series." —Booklist